Progressive Dermal Remodeling with Defined Results
Secret™ PRO takes on a non-conventional approach to skin revitalization by uniquely combining two clinically proven technologies in a single device. Utilizing fractional CO2 for skin resurfacing and radio frequency microneedling for deep dermal remodeling effectively treats the full thickness of the skin from epidermis to the deeper dermal layers independently or together.
Secret PRO's customizable procedures offer breakthrough treatment options based on your patient's needs, skin type, and downtime tolerance while maximizing your ROI.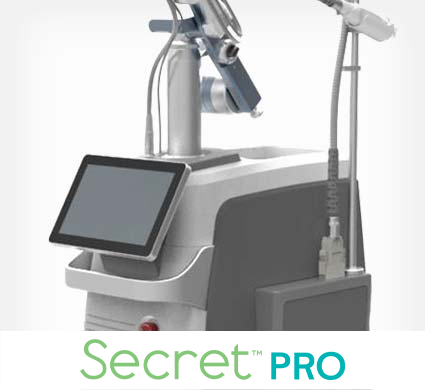 Applications
Fine lines and wrinkles*
Sun damage**
Skin tone and texture
Acne scars
Burn scars
Atrophic scars
Stretch marks
Skin resurfacing
Lentigos
Warts
Blemishes
Not all applications are approved in all geographies. Consult the Operator Manual for the indications approved in your area.
Secret™ PRO Customized Treatments
Secret PRO features four unique treatment options for skin resurfacing and deep dermal remodeling, designed specifically to address your patient's needs.
This series of gentle, full-face, fractional CO2, micro peel treatments address the superficial layers of photodamaged skin and stimulates neocollagenesis for skin revitalization with minimal downtime.¹
For patients who desire a more aggressive treatment, this procedure uses CO2 laser energy to target, photodamage, uneven texture, scars, crepey skin, and deliver more dramatic results in a single treatment.¹
A series of customizable RF microneedling treatments to provide deep dermal remodeling. Energy is precisely delivered at varying depths to treat common skin concerns such as fine lines, wrinkles, scars, acne scars, striae, pore reduction, and more.¹

It's an ideal treatment for patients with all skin types seeking prejuvenation or those who want to revitalize their aging skin with minimal to no downtime.
Get the ultimate treatment that layers RF and CO2 laser energy in a single session. This procedure allows you to perform the ideal treatment for progressively damaged skin by increasing collagen and hyaluronic acid production to reverse the signs of aging.
Secret™ PRO Handpieces
The fractional scanning handpiece covers 20x20 mm area for fast treatment. Adjustable scan patterns are customizable to treatment needs.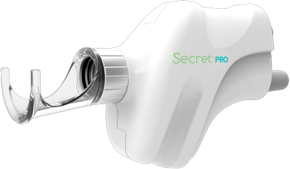 Secret PRO's RF microneedling 25-pin handpiece is ideal for treatments on the face or smaller, more delicate areas and can be used with non-insulated and semi-insulated needle tips for full treatment customization.
Secret PRO's RF microneedling 64-pin handpiece covers the largest treatment area on the market for faster, more efficient treatments. Ideal for treatments on the face, neck, chest, and body, the 64-pin handpiece features semi-insulated needles for precise placement of energy.

The smart surgical handpiece with adjustable multiple spot sized from 0.2mm to 1.3mm enables fast, clear and precise incisions and tissue coagulation to effectively treat superficial lesions, keratose, seborreiques.