Why Secret™ RF Skin Revitalization Treatment is a Hot New Trend That is Rapidly Increasing in Demand for All Areas of the Body.
Secret™ RF is a microneedling treatment that combines the use of fine, insulated needles and radio frequency (RF) energy to heat and effectively target fine lines and wrinkles on the face and neck, frustrating stretchmarks, scars, and even crepey skin on the body1-3. One of the key features of Secret RF is that the needles deliver heat directly underneath the skin where it is needed, in a safe and controlled manner that does not damage the surface of the skin. More specifically, this treatment stimulates new collagen production, which can lead to a more supple appearance4. This minimally invasive technique also stimulates the wound-healing processes that promote the release of additional proteins that support skin revitalization. Due to its success rates, the use of this type of skin revitalization treatment increased by 99.5% in recent years5.
Adding to the appeal of Secret RF is the minimal downtime following this treatment. Patients generally report very few side effects and dramatic improvements of acne scars, stretch marks, and wrinkles in a short amount of time. Several clinicians who have incorporated the use of Secret RF into their practices also endorse the numerous benefits of using this device to promote skin health and revitalization6.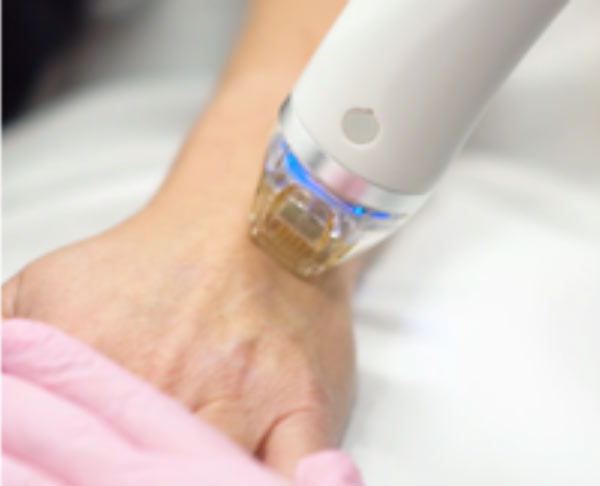 Secret RF improves
Fine Lines
Wrinkles
Acne and Typical Scars
Stretch Marks
Sun Damage
A key feature of Secret RF is its exceptional versatility, allowing your practitioner to treat large areas of the body as well as small-delicate regions (e.g., under eyes, nose)6. The versatility is important because patients usually seek treatment for skin on the face and neck, but more recently, there is an increasing number of patients who also desire improvement of skin on the abdomen, arms, knees, and thighs. Secret RF provides treatment to these areas that are typically hard to treat with other devices and has resulted in significant improvements in the appearance of the skin. Patients who have been treated with Secret RF frequently mention that the areas targeted with fine lines or wrinkles were noticeably reduced, especially around the eyes and mouth.
Furthermore, many patients speak to the effectiveness of Secret RF by stating that it can decrease the need for fillers and additional cosmetic procedures (e.g., surgical facelift) to achieve the desired outcomes.
Another advantage of Secret RF is that it can provide benefits to a wide demographic of patients as it improves the appearance of the skin in older and younger people6. Older individuals typically desire non-surgical treatment of eyelid drooping and loose skin, which is possible with Secret RF, while younger patients are attracted to the shorter recovery time after Secret RF treatment in comparison to laser treatment. Therefore, more and more people are choosing Secret RF microneedling to achieve younger, healthier-looking skin.
Indeed, individuals who choose this type of microneedling treatment are typically very satisfied with the level of comfort and the visible improvements that this skin revitalization procedure provides. Many are so happy with the results that they decide to undergo repeated treatments to achieve even better outcomes6. Secret RF offers full body treatment with minimal downtime and excellent versatility that allows both large complex areas such as the thighs, arms, and knees to be treated as well as delicate areas around the eyes and mouth. The benefits and results are rapidly making Secret RF a standard device in practices all across the country by offering an optimal, non-surgical, and minimally invasive skin solution. Ask your provider about Secret RF today.
References
1. Chandrashekar BS, Sriram R, Mysore R, Bhaskar S, Shetty A. Evaluation of microneedling fractional radiofrequency device for treatment of acne scars. Journal of cutaneous and aesthetic surgery. 2014 Apr;7(2):93.
2. Cho SI, Chung BY, Choi MG, Baek JH, Cho HJ, Park CW, Lee CH, Kim HO. Evaluation of the clinical efficacy of fractional radiofrequency microneedle treatment in acne scars and large facial pores. Dermatologic Surgery. 2012 Jul;38(7pt1):1017-24.
3. Kim JK, Roh MR, PARK GH, Kim YJ, Jeon IK, Chang SE. Fractionated microneedle radiofrequency for the treatment of periorbital wrinkles. The Journal of dermatology. 2013 Mar;40(3):172-6.
4. Bhatia A, Hsu J. Use and application of the SecretTM Fractional microneedle RF system for skin revitalization.
5. American Society of Aesthetic Plastic Surgery 2017
6. DermTube Podcasts
AP003297
Tags