How to Bring Back the Youthful Appearance of Your Neck
When it comes to improving fine lines and wrinkles, most consider skin revitalization treatments primarily for the face. But did you know that your neck is one of the first tell-tale signs of your age? The skin around your neck is just as delicate (and just as thin) as the skin around your eyes and lips, and is not always easy to treat. Thinner skin is more prone to scarring and requires the use of non-ablative technology to ensure your neck can look as youthful as your face after treatment.
Why Secret RF?
Secret RF is a non-invasive microneedling treatment that improves the overall texture and quality of your skin with minimal downtime. Using fractional radiofrequency (RF) technology, Secret RF delivers thermal energy to target specific tissue layers to reduce the appearance of fine lines, wrinkles, photoaging, scars and acne scars as well as stretch marks. Because Secret RF can precisely target the desired treatment level on the face and neck, higher energies can be used without damaging the second layer of the skin, resulting in a safer treatment than traditional lasers.
Your Neck and What to Expect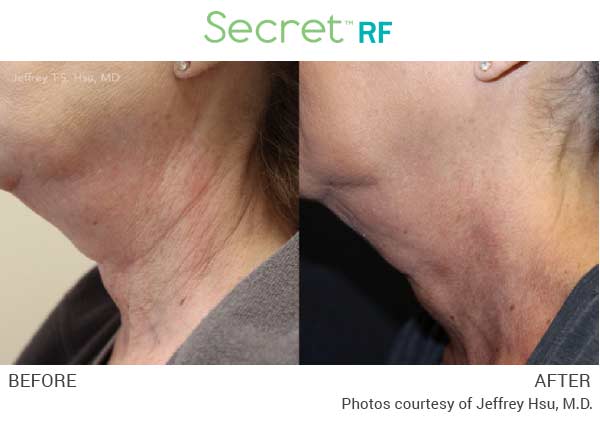 If you're considering a Secret RF treatment, here's what you can expect from your provider:
Your dermatologist or clinician may ask you to pre-condition or prep the area with a topical skincare for two weeks before and after treatment
During your visit, a topical anesthetic numbing cream is applied 30-60 minutes prior to the treatment and is removed in sections as the treatment progresses to ensure complete anesthesia of each section
Based on the provider's assessment of your skin, you can expect a series of passes on the area being treated depending on the severity of the concern
Total treatment time can be anywhere between 15 to 20 minutes
Most patients report little to no downtime, however for areas treated with multiple passes and higher energy, redness and swelling may occur for 3-5 days and the skin's surface can feel gritty, like sandpaper or up to a week
Tags