Industry Experts Weigh in on TruSculpt iD
According to a recent survey, 57% of consumers reported that they have considered undergoing noninvasive cosmetic body sculpting to achieve their desired body.¹ The body contouring market is projected to grow by 14.5% annually in order to accommodate this growing demand for safe, noninvasive, and effective body-shaping treatments.² In response to consumer demand, Cutera Inc. introduced truSculpt iD, a revolutionary body sculpting device, which is a hands-free product that uses 2mHz monopolar radiofrequency (RF) energy to therapeutically heat adipose tissue to induce lipolysis.³ This innovative technology effectively promotes permanent fat cell destruction with an average of 24%, and patients typically lose weight fast, with improvements being observed in as little as 6 to 12 weeks with a single 15-minute treatment.4
One of the main reasons that truSculpt iD treatment has rapidly become popular is due to the proprietary design that addresses many limitations physicians experienced with alternative treatment protocols, such as SculpSure and Coolsculpting. These issues included:
Being anatomically limited by belts or applicators that only fit certain regions, body sizes, or skin types
Not being able to target large and small areas simultaneously
Patient discomfort during treatment and lengthy post-treatment protocols
Consistent improvements after just one treatment
Long office times up to 105 minutes to complete a treatment for only 2 areas
Several physicians also emphasized the need for lighter handpieces, faster treatment times and patient throughput, lower consumable costs, devices that avoid cold sensitivity, have less or no downtime, and do not require a post-treatment massage.5 truSculpt iD's design effectively addressed each of these areas as it is comprised of several hands-free handpieces as well as two lightweight handheld handpieces that offer the best customization options to address specific patient needs. truSculpt iD provides a customizable body sculpting experience in a shorter treatment time than other body contouring devices currently on the market. Also, this versatile product can safely be used for various fat densities and all skin types, from a patient with non-pinchable fat to BMIs of 30 and higher.³ Accordingly, many industry experts attest to the benefits of the truSculpt iD RF device and explain why this product is the hottest trend in the body sculpting market.
Jeffrey Dover, MD, the co-director of SkinCare Physicians in Chestnut Hill, MA, says,
truSculpt iD adds a new dimension to noninvasive body contouring…, the procedure is very well-tolerated with limited discomfort, and it can be performed quickly on a fairly large area…as six handpieces can be applied at once to treat an area such as the abdomen and flanks in a 15-minute treatment session.
Similarly, San Diego laser surgeon E. Victor Ross, MD, explains that truSculpt iD is unique, and especially beneficial at inducing fat removal due to its ability to deliver heat in a systematic, predictable, and programmed way through the use of the truControl technology which is an inverse temperature gradient. He adds that
the challenge with all body contouring devices is to selectively target the fat. If the fat were on the surface, that would be easy, but it is a few centimeters down depending where you are treating, and the challenge has always been to selectively target fat while sparing the skin overlying it
According to Dr. Ross, Cutera Inc. has successfully created the right frequency (2 MHz), and the proper delivery system configuration that allows truSculpt iD to effectively deliver a controlled temperature that causes fat to become hotter than the skin. This process destroys fat cells by stimulating apoptosis without causing damage to the skin and keeping patients comfortable during treatment, thereby promoting fat loss, including stubborn fat, effective body shaping leading to an enhanced body. In addition to these features, the short treatment time is also an important factor that makes this treatment popular among patients while affectively destroying fat.
Furthermore, Stephen Ronan, MD of Blackhawk Plastic Surgery, Danville, CA conducted a time-temperature dependence study which indicated that best outcomes were achieved with a single 15-minute treatment resulting in an average fat reduction of approximately 24% percent fat after 12 weeks.³ Due to the consistent results and high success rates, several leading aesthetic physicians who incorporated this treatment approach into their practice describe this technology as a game-changer due to the short treatment periods, the versatility with six handpieces, its ability to help people lose belly fat, and reduce fat.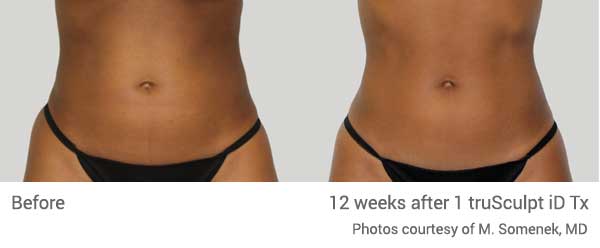 Michael T. Somenek, MD, who is a facial plastic surgeon in Washington, DC adds that another benefit is that the truSculpt iD treatment does not require a post-treatment protocol as is the case with CoolSculpting, which must be followed by a massage post-treatment, leading to a total of 105min per treatment. Due to these body sculpting achievements, truSculpt iD RF is the hottest body contouring trend that safely and effectively stimulates fat apoptosis and has been clinically proven to help patients lose weight fast by targeting stubborn fat. The truSculpt iD treatments are well tolerated by patients, offering no pain or downtime, and treatments can be done during lunchtime, which is an important benefit for busy professionals.
Suzanne L. Kilmer, MD, who is the founder of the Laser and Skin Surgery Center of Northern California and Clinical Professor at the University of California has been a collaborator in the research studies for truSculpt iD, agrees that this technology is advantageous for both patients and practices alike. According to Anne Chapas, MD,
Short treatment time is a benefit not only for the patient but to the practice's bottom line as well; a goal that is especially important for physicians who want to see continual growth in their practices.
Resources
1. https://www.asds.net/Medical-Professionals/Practice-Resources/ASDS-Consumer-Survey-on-Cosmetic-Dermatologic-Procedures
2. http://miinews.com/wp-content/uploads/2017/04/BodyShap-SkinTight-ExecSummary_071817.pdf
3. Supplement to Modern Aesthetics, The Next Evolution in Body Sculpting: truSculpt iD, March/April 2019 4. Amy Taub, MD, ASDS, 2017 Poster Presentation.
5. Survey data on file with Cutera, Inc.
Tags