Body Sculpting with Radio Frequency Devices - Explore The Differences from Skin to Fat
Body sculpting is increasing in popularity, and demand is expected to rise in the coming years. The use of Radio Frequency (RF) devices in body sculpting is not a new concept. It is a tried and trusted technology that physicians have been using to treat patients for decades. The success of these procedures has resulted in a significant increase in treatments as well as improvements to the existing approaches to therapy. Cutera has developed a new application in RF body sculpting for lipolysis that was previously not addressed by other technologies in the industry.

RF body sculpting has three key categories that produce different results, based on the unique properties of the various types of Radio Frequency technologies.
The first—Skin Improvement—typically uses a combination of Bipolar RF and Vacuum for temporary reduction of wrinkles and cellulite, which includes manufacturers and devices such as Venus Legacy, Syneron VelaShape III, In Mode Body FX, BTL Excilis, Solta Thermage, Fotona SP/4D, Lynton Promax Lipo, Alma Accent and VShape.

Bipolar RF superficially heats the dermis and upper quarter layer of fat that is exposed to the suction. The skin temperature will typically rise approximately 42-43˚C for more than 5 minutes resulting in inflammation and increased collagen. The results of these treatments are temporary, and they require that most patients receive six to eight treatments, one week apart.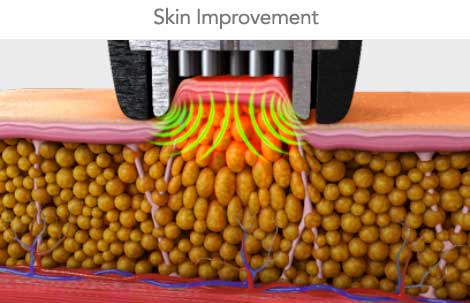 Maintenance is recommended once a month or every three to four months. Since the patient will need a minimum of six 30-minute treatments, it will take an average of 180 minutes to get the desired results1. With very little discomfort to the patient, this is an option for temporary improvement in skin texture.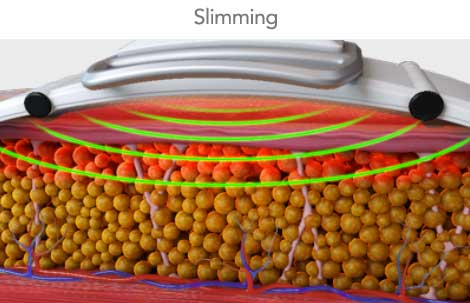 The second category—Slimming—uses a Focus Field RF to temporarily reduce circumference and shrink fat cell size but does not eliminate them which includes manufacturers and devices such as Lutronic Encurve and BTL Vanquish.

Focus field RF energy bounces off fat (from one side of the electrode to the other) and heats the dermis and upper quarter layer of fat. By using a large applicator, the goal is to achieve global size reduction and bulk heating. The heat penetrates less than 10 mm to temperatures between 40-45˚C for basic skin remodeling and very minor fat reduction. This technology produces temporary circumference reduction results with relatively low discomfort. The patient will need a minimum of four 45-minute treatments to achieve the desired results, again taking an average of 180 minutes to complete all treatments2.
The third and final new category—
Lipolysis
—uses Monopolar RF Focused Hyperthermia to achieve Lipolysis, and Cutera's
truSculpt 3D
and 
truSculpt iD
are the only RF devices FDA cleared to join this category.
This technology uses specifically sized templates to identify localized fat pockets and transfer heat through the skin down to the muscle layer with handpieces. The fat temperature is increased by more than 10˚C at a depth of more than 25 mm causing apoptosis. Approximately 24% of localized fat cells are permanently eliminated3. truSculpt iD creates lipolysis with up to six handpieces at one time during one 15-minute session, covering a large 300cm2 surface area. This technology is different from other sculpt and contour methods as it is flexible and can be used on patients with BMIs over 30, with non-pinchable fat, on skin with laxity, as well as over tattoos. truSculpt iD is comfortable like a hot stone massage and has no downtime.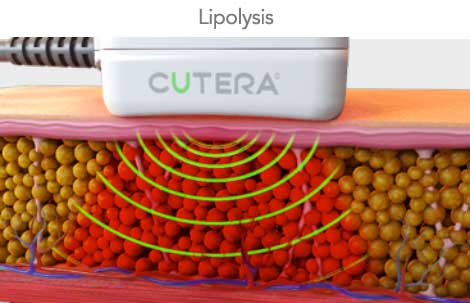 When I looked at truSculpt iD, it met all of my requirements—it's able to cover a larger surface area than competitors' devices within a 15-minute treatment. Time is everything for people, especially in DC. Patients want to get in, get out, and potentially just go right back to work. The fact that I could offer that in a 15-minute treatment was a huge selling point

- Michael T. Somenek, M.D.
truSculpt iD is adding a new element to body contouring and building on the continued success of the other technologies in the three above mentioned categories. It uses a 2 MHz Monopolar RF—Cutera's proprietary, low frequency, and uniform delivery technology—which penetrates deep to treat the entire fat layer from skin to muscle.
This treatment can be used as a standalone option or in addition to treatments from the other two categories of body sculpting. It all depends on the needs and wants of the patient, and what expectations they may have as well. Knowing the differences between the categories and technologies that are available in the market today will help you select the best solution to meet the needs of your patients and your practice.
1https://www.venustreatments.com/en-us/body-shaping-treatment.htm
2https://www.btlaesthetics.com/us/btl-vanquish-me
3Amy Taub Study ASDS 2017 Poster
Tags