Body Sculpting with Non-invasive Lipolysis Devices
Non-invasive body sculpting and contouring is a cutting-edge procedure that a growing number of patients are seeking out due to benefits that include permanent fat cell destruction, skin tightening, short treatment times, and rapid results1. According to the American Society for Plastic Surgery, the well-demonstrated safety and efficacy of nonsurgical body sculpting led to a 24.7% spike in fat-reduction procedures2, and it is anticipated that the demand for this form of body shaping treatment will continue to increase during the upcoming years3.
There are various types of body sculpting devices that are currently available, such as Allergan / Zeltiq CoolSculpting, Cryomed Cooltech, Deleo Cristal, Zimmer ZLipo, Cynosure SculpSure, Hironic Slimus, Candela / Syneron UltraShape Power, Solta Liposonix, and Classys Ultraformer. However, Cutera has designed the only RF device that has received FDA clearance for lipolysis - truSculpt iD.
The premise behind the success of non-invasive body sculpting devices involves their ability to induce lipolysis and promote the excretion of destroyed fat cells. There are four categories through which this can be achieved:
Cryo Focused Hypothermia
Laser Focused Hyperthermia
Focused Mechanical Ultrasound
Monopolar RF Focused Hyperthermia

Allergan / Zeltiq CoolSculpting, Cryomed Cooltech, Deleo Cristal, and Zimmer ZLipo devices involve Cryo Focused Hypothermia technology, which uses specific sized applicators to identify and treat localized fat. That is, it lowers the temperature of fat by approximately 10˚C at a depth of 25mm in order to induce fat cell apoptosis. These devices have received FDA approval for cold-assisted lipolysis in individuals with a Body Mass Index (BMI) of 30 of less4. The treatment utilizes three applicators (35 minutes per applicator) for a total of 105 minutes5, and this typically leads to 20-25% fat reduction in the treated region6. Although this lipolysis device demonstrates efficacy, patients have reported that this treatment produces pulling, pinching, cramping, and aching sensations, among others7.
The next lipolysis category is Laser Focused Hyperthermia (Cynosure SculpSure and Hironic Slimus devices), which entails using specific sized applicators to heat localized fat by approximately 10˚C at a depth of 25mm to promote apoptosis. This laser device has received FDA clearance for non-invasive lipolysis of the abdomen (11.5%), flanks (13%), back (10.6%), the inner thighs (8%), and the outer thighs (7.2%) in individuals with a (BMI) of 30 or less8,9. The procedure involves the placement of eight applicators and a total treatment time of 50 minutes10. Patients generally feel a cooling sensation along with tingling and deep warmth, and laser focused body sculpting results in a 24% reduction of the fat layer in the treated area11.
Focused Mechanical Ultrasound (Candela / Syneron UltraShape Power, Solta Liposonix, and Classys Ultraformer devices) is another lipolysis category, in which a transducer is used to administer sound waves into localized fat in order to cause apoptosis. The ultrasound technique is FDA-cleared for the non-invasive reduction in abdominal circumference as well as fat reduction in the flanks and thighs for individuals with a BMI of 30 or less12. This body sculpting process involves three treatments that are scheduled two weeks apart13, and each session entails the administration of 8 FTZs for 32 minutes, which makes the total treatment time 96 minutes14. Patients usually experience minimal discomfort or none at all15, and the result is typically an 11% fat reduction for each treatment, which totals 31.5% ±8.3% for a 13mm layer of fat14.
The lipolysis category that truSculpt iD belongs to is Monopolar RF Focused Hyperthermia, for which multiple handpieces are used simultaneously to treat localized fat and heat it by approximately 10˚C at a depth of 25mm to induce apoptosis. truSculpt iD is the only RF device that has been cleared by the FDA for non-invasive lipolysis of the abdomen and the reduction in circumference of the abdomen for individuals of all body types with any BMI. The treatment involves the placement of six handpieces that administer 2 MHz Monopolar RF for a total of 15 minutes. This procedure leads to the permanent destruction of approximately 24% of treated fat cells, which are slowly removed and naturally excreted from the body over 12 weeks.
Patients describe the treatment as comfortable, often referring to its sensation as a hot stone massage, and there is no downtime.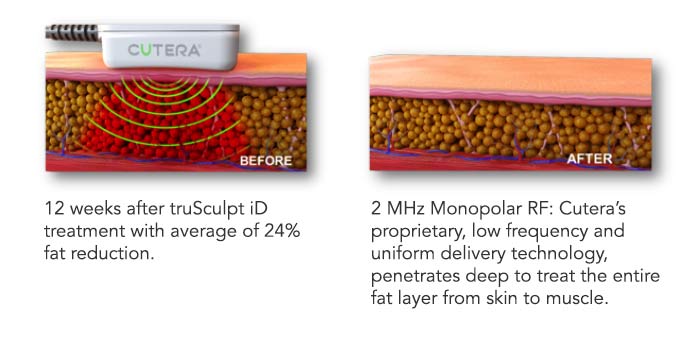 We have been excited to see the consistency with truSculpt iD across all skin and body types so far. Our studies have shown an average of 24% reduction in fat thickness after a single session... and the skin seems to be smoother, firmer and revitalized, which is an additional effect our patients appreciate. 

Amy Taub, M.D.

truSculpt iD is the only FDA approved RF device for body sculpting treatment in individuals with non-pinchable fat, skin with laxity, and a BMI higher than 30, and it is even safe enough to be applied over tattoos. Furthermore, multiple areas of the body can be treated simultaneously and there are no placement limitations. To date, RF body sculpting requires as little as one treatment to demonstrate positive results, with both patients and physicians repeatedly reporting a high satisfaction level.
1. Supplement to Modern Aesthetics, The Next Evolution in Body Sculpting: truSculpt iD, March/April 2019
2. https://www.surgery.org/sites/default/files/ASAPS-Stats2017.pdf
3. http://miinews.com/wp-content/uploads/2017/04/BodyShap-SkinTight-ExecSummary_071817.pdf
4. https://www.accessdata.fda.gov/cdrh_docs/pdf12/K120023.pdf
5. https://www.coolsculpting.com/what-is-coolsculpting/faqs/
6. https://www.coolsculpting.com/what-is-coolsculpting/fat-reduction-vs-weight-loss/
7. https://www.coolsculpting.com/what-is-coolsculpting/what-to-expect/
8. https://www.accessdata.fda.gov/cdrh_docs/pdf17/k171111.pdf
9. https://www.accessdata.fda.gov/cdrh_docs/pdf15/k150724.pdf
10. https://www.cynosure.com/product/sculpsure/
11. https://www.sculpsure.com/faqs/
12. https://www.accessdata.fda.gov/cdrh_docs/pdf17/k170370.pdf
13. https://www.accessdata.fda.gov/cdrh_docs/pdf17/k170370.pdf
14. http://www.ultrashape.com/results
15. https://syneron-candela.com/sites/default/files/pb92421en-na_fda_data_white_paper_ultrashape_power.pdf
Tags