PICO Genesis FX: enlighten's New Non-ablative, Fractional Skin Revitalization Procedure
Skin damage due to light exposure and aging results in the thinning of the dermis and epidermis, changes in skin texture, acne scars, wrinkles, and vascular and pigmentation changes. Symptoms of aging and photodamage, such as wrinkles and skin laxity, are associated with reduced collagen and elastin levels in the dermis. Ablative lasers, such as carbon dioxide lasers, have been used on the skin for a long time. They produce thermal damage to both the epidermis and dermis. The damage to the epidermis allows thermolysis of the deeper layers of the dermis and results in the production of collagen and elastin. These ablative laser treatments, however, have a long social downtime and are associated with the risk of hyperpigmentation and infections. Ablative fractional resurfacing can decrease downtime and complications, however, the need for multi-pass treatment may result in increased downtime.
Non-ablative lasers, in contrast, result in selective thermal heating of the dermis without damaging the epidermis. Although safer than ablative laser technologies, most non-ablative laser technologies are not able to penetrate the deeper layers of the dermis and have limited efficacy in the treatment of deep wrinkles. There are newer fractional non-ablative laser resurfacing procedures though, that involve selective damage to microscopic zones in the dermis1 and provide a balance between efficacy, safety, social downtime, and adverse effects.
Cutera's enlighten platform has been a workhorse in aesthetic practices. It features three clinically proven wavelengths – 532 nm, 670 nm, and 1064 nm – and dual nanosecond and picosecond laser pulses optimized for the treatment of various benign skin conditions as well as tattoo removal and features two signature procedures: PICO Genesis and PICO Genesis FX. PICO Genesis is a non-ablative procedure for the treatment of pigmented lesions and improvement of skin quality and tone. PICO Genesis FX is a new addition to Cutera's enlighten platform that uses fractionated picosecond laser pulses delivered with a novel Micro Lens Array (MLA) handpiece for the treatment of acne scarring and textural improvements.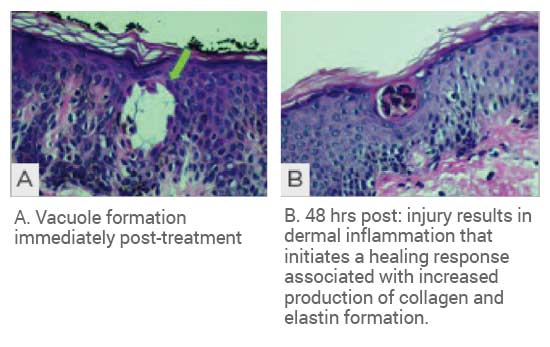 PICO Genesis FX delivers fractionated, high-energy picosecond pulses to induce non-thermal optical breakdown within the dermis to promote collagen remodeling and elastin production2 while leaving the epidermis unharmed.

In a pilot study conducted to evaluate the efficacy of the PICO Genesis FX procedure in the treatment of moderate to severe acne scars, 97.4% of the participants showed visible improvement in acne scars after a series of treatments, with a participant satisfaction of 80%. In a separate pilot study, PICO Genesis FX was also effective in improving skin texture and quality, with improvements in radiance, smoothness, pigmentation, pore size, and wrinkles. Participant satisfaction in this study was also high, with 91% interested in repeating the treatment and 81% showing improvement in wrinkles after 6 or fewer treatments. Both pilot studies demonstrated not only the efficacy but also the safety and minimum downtime associated with the PICO Genesis FX procedure.
Acne Scars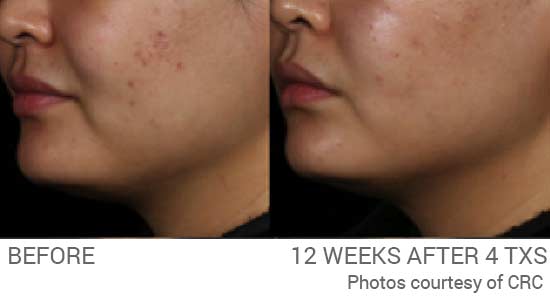 Wrinkles and Skin Quality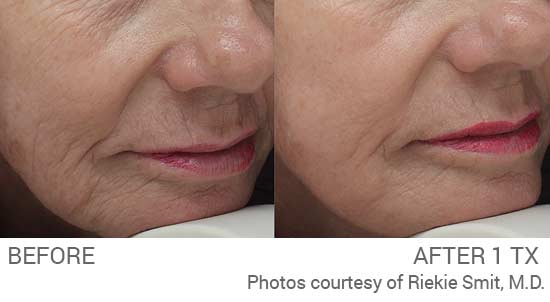 In summary, the enlighten system delivers high energy, nanosecond and picosecond duration pulses coupled with 532nm, 670nm and 1064nm wavelengths for the treatment of pigmentation disorders as well as tattoo removal. PICO Genesis FX fractionates enlighten's beam, intensifying the energy and creating micro-wounds within the epidermis and dermis for the treatment of acne scars and wrinkles. The damage induced by PICO Genesis FX is restricted to microscopic zones and means a quicker recovery period relative to traditional fractional procedures. Thus, PICO Genesis FX is FDA cleared for use with all skin types, involves minimal pain during the procedure, and has a quick recovery period involving mild and self-resolving side effects. All procedures performed using the enlighten system are clinical proven to be safe and effective and may be chosen according to the patient's preference.
1. Schomacker, K., Bhawalkar, J. Mechanism of action of fractional 532 nm and 1064 nm picosecond laser for skin rejuvenation . 2015. Whitepaper, SyneronMedical LTD
2. Habbema L, Verhagen R, Van Hal R, Liu Y, Varghese B. Minimally invasive non‐thermal laser technology using laser‐induced optical breakdown for skin rejuvenation. Journal of biophotonics. February 2012.
3. Weiss RA, McDaniel DH, Weiss MA, Mahoney AM, Beasley KL, Halvorson CR. Safety and efficacy of a novel diffractive lens array using a picosecond 755 nm alexandrite laser for treatment of wrinkles. Lasers in surgery and medicine. 2017 Jan;49(1):40-4.
Tags