DYNAMIC FACIAL RESURFACING AND REMODELING
Dual non-ablative fractional technologies, Secret RF microneedling paired with a 1540 nm erbium glass laser can be used individually or together. Treatments like The Secret Glow can easily and quickly target the common signs of aging such as pigmentation, texture, fine lines, stretch marks, and scars.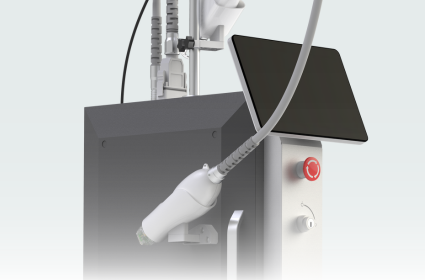 Applications
Skin Aging Concerns
Skin Quality and texture
Stretch Marks
Sun Damage
Enlarged Pores
Scars
Not all applications are approved in all geographies. Consult the Operator Manual for the indications approved in your area.
Handpeices
Dual, non-ablative technology working in complete synergy: 1540nm fractional laser and RF microneedling handpiece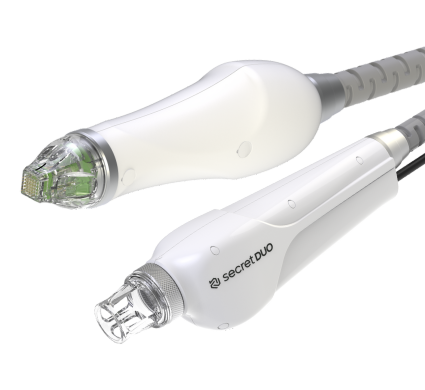 DUAL, NON-ABLATIVE TECHNOLOGY WORKING IN COMPLETE SYNERGY
RF Microneedling
RF Microneedling: Secret RF delivers precise, controlled radiofrequency energy at adjustable depths to target patients' most common skin concerns on the face and body with little to no downtime.
Semi- and non-insulated needles available in 25- and 64-pin tips microneedles treat all skin types and a wide range of aesthetic concerns.
Controlled energy delivery at the point of needle insertion results in greater treatment precision, improved treatment outcomes, and patient experience.
Adjustable needle depths ranging from 0.5-3.5 mm enable providers to treat at various depths based on area and concern.
1540 nm Er:Glass Fractional Laser
Secret DUO's 1540 nm wavelength offers a gentler approach to skin resurfacing with significantly reduced downtime. By delivering dermal thermal heating in multiple micro-columns without any damage to the skin surface, patients of all skin types can safely achieve meaningful improvement in their skin concerns.
Adjustable scanning sizes and patterns up to 15x15 mm provide fast treatments covering various treatment areas on the face and body.
Two unique lens lengths (600 and 300 um) expand treatment modes and capabilities and provide a higher level of control of treatment intensity and outcomes.
Reduced downtime with multi-sub pulses that allow for deeper penetration of energy with less heat dissipation